Welcome!
More than one million different promotion products are available today. The question is no longer "Is there a perfect promotion product for my needs?" but rather "Which promotional product is perfect for my needs?"
At Imprintastic! we research and provide promotional products that meet your specific communications objectives, budget and deadline. Working with us, you get more for your marketing dollar with products that impact your target audience in more effective and memorable ways.
Contact us at 781-789-8336 We'll give you some great ideas!
Imprintastic! Promotion Products Keeping You Top-of-Mind
Featured Item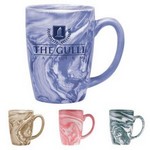 16 Oz. Palermo Collection Mug
This mug features an elegantly marbleized design & a comfortable, easy grip handle. Please note that due to the individual craftsmanship of these mugs, variances do occur in the color portions of the ...
$3.15 - $4.08
Signature Showrooms